5th Nektar++ Workshop 2021
The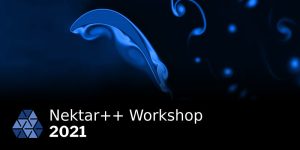 5th Nektar++ Workshop brings together developers and users to discuss current uses and new and future developments in Nektar++.
About this event
The 5th annual Nektar++ Workshop will bring together developers and users of all experiences to hear about new and future developments in Nektar++ and the exciting science and engineering being undertaken with the code. As part of this years workshop we will also be offering some introductory training on spectral/hp element methods and high order meshing as part of the ITN on Stability and Sensitivity Methds for Flow Control and Industrial Design (SSeCoID).
The workshop will be organised as a hybrid event, allowing attendees to join either in person (limited places available) or remotely. The main talks will run in the afternoons (GMT) to allow as many remote attendees to join as possible across different timezones. The three afternoons will include a comprehensive programme of talks, given either in-person or pre-recorded. In-person attendees can participate in training sessions during the morning sessions.
The main workshop will be followed by parallel informal group sessions allowing developers and users to discuss and work on specific aspects of the code and influence the future direction of Nektar++.
Provisional Schedule (GMT)
Monday 13th December
12:00 – 13:00 Lunch & Registration
13:00 – 15:00 Session 1 (Talks)
15:00 – 15:30 Refreshment break
15:30 – 17:30 Session 2 (Talks)
Tuesday 14th December
09:00 – 12:00 Lectures & Training 1
12:00 – 13:00 Lunch
13:00 – 15:00 Session 3 (Talks)
15:00 – 15:30 Refreshment break
15:30 – 17:30 Session 4 (Talks)
19:00 – 21:00 Workshop dinner
Wednesday 15th December
09:00 – 12:00 Lectures & Training 2
12:00 – 13:00 Lunch
13:00 – 15:00 Session 5 (Talks)
15:00 – 15:30 Refreshment break
15:30 – 17:30 Session 6 (Talks)
17:30 Close
To register for the event please visit this website: https://www.eventbrite.com/e/nektar-workshop-2021-tickets-97980766109